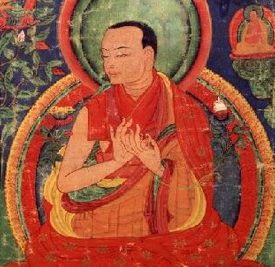 The dharma in Devon: meditation and reflection
On Saturday the Exeter and North Devon Sakya groups were delighted to welcome back David Armstrong for his biannual visit to lead a meditation day. On this occasion we were taken through part one of Chogyal Phakpa's "Garland of Jewels" which Lama Jampa began at the Sakya centre in Bristol earlier in the year. This gave those who had received the teaching the opportunity to revisit the richness of the teaching ; and for newcomers it gave the chance to see how we can build Dharma practice on solid foundations, based on everyday kindness and practical wisdom in relating to those around us, ensuring happiness for both ourselves and others.
David divided the text into four parts which fitted into each session and gave time for queries and discussion which built up its own momentum as the day progressed and we became increasingly engaged with what this indispensable teaching involved.
We were all very pleased to see David looking so well and so capably steering us through the detail of the text.
We look forward to David's visit next year on 7th March.